MyHealthTeam Appoints Digital Health Innovator Chevon Rariy, M.D. To Its Board of Directors
Transformative Healthcare Innovator with Expertise in Integrating Digital and In-Person Patient Care for Better Outcomes
SAN FRANCISCO, CA/September 26, 2023–MyHealthTeam, creator of the largest and fastest-growing portfolio of social networks for people facing chronic health conditions, has announced that Chevon Rariy, MD, joined its Board of Directors. A board certified endocrinologist with years of experience treating patients with a focus on endocrine oncology, and a seasoned operating executive in several companies, Dr. Rariy is one of the world's foremost experts on how to integrate digital and in-person care to help patients reach better health outcomes.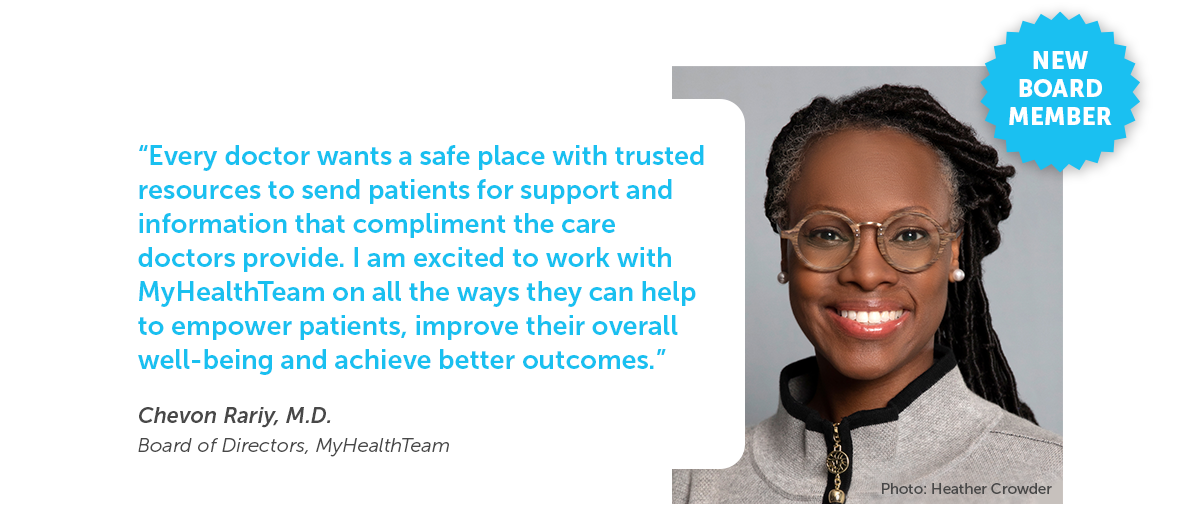 With nearly 20 years' experience, Dr. Rariy has held senior executive roles across clinical, governmental, academic and private organizations ranging from Fortune 5 "Big Tech" (Amazon Care) to national health systems to startups. She currently serves as Chief Health Officer and SVP Digital Health at Oncology Care Partners, and she also serves as part of a coalition of academic health systems, government representatives, and experts on the responsible use of AI in healthcare. 
"We are thrilled to welcome Dr. Rariy to our Board of Directors," said Eric Peacock, CEO and Co-Founder of MyHealthTeam. "Her vision for how digital patient solutions such as MyHealthTeam can be used to complement and reinforce the impact of in-person care is inspiring for our employees, partners, and most of all – our members.  Her recent guidance on responsibly incorporating AI into our platform has been invaluable."  
"Every doctor wants a safe place with trusted resources to send patients for support and information that compliment the care doctors provide," explained Dr. Rariy.  "I am excited to work with MyHealthTeam on all the ways they can help to empower patients, improve their overall well-being and achieve better outcomes." 
ABOUT CHEVON RARIY, M.D. 
Dr. Rariy is board certified in Internal Medicine and Endocrinology, fellowship trained at Harvard Medical School's Brigham & Women's Hospital and University of Pittsburgh Medical Center (UPMC), with a medical degree from Harvard Medical School and undergraduate degree from Duke University. She began her career working at the Veterans Association where she combined digital with in-peron care as a practicing M.D. While at the VA, she spearheaded virtual health practices across the state of Hawaii, and is heralded as a pioneer in integrating digital with in-person healthcare. She then served as VP, Virtual Health at CTCA/City of Hope, one of the largest U.S.-focused oncology networks, before becoming the Chief Medical Officer, Clinical Strategy of Care Medical/Amazon Care for Amazon, Inc. She is currently serving as the Chief Health Officer and Senior Vice President of Digital Health at Oncology Care Partners, an innovative oncology provider built solely to improve the patient experience through high-touch, high-quality, affordable, equitable, person-centered value-based care. 
Dr. Rariy is also the co-founder of Equity in STEMM, Innovation & AI. With such a unique combination of expertise and perspective, she has been recognized by ASCO/AVBCC as "40 under 40" in Cancer Innovation. 
ABOUT MYHEALTHTEAM
MyHealthTeam believes that people diagnosed with a rare disease or chronic condition should be able to easily find the people, support and medically-approved information they need to best manage their condition. Millions of people regularly visit one of 52 condition-based, social media communities or knowledge centers by MyHealthTeam from Alzheimer's to Vitiligo covering all therapeutic areas and many rare conditions; please visit MyHealthTeam for a complete list. MyHealthTeam is actively being used in 13 countries.