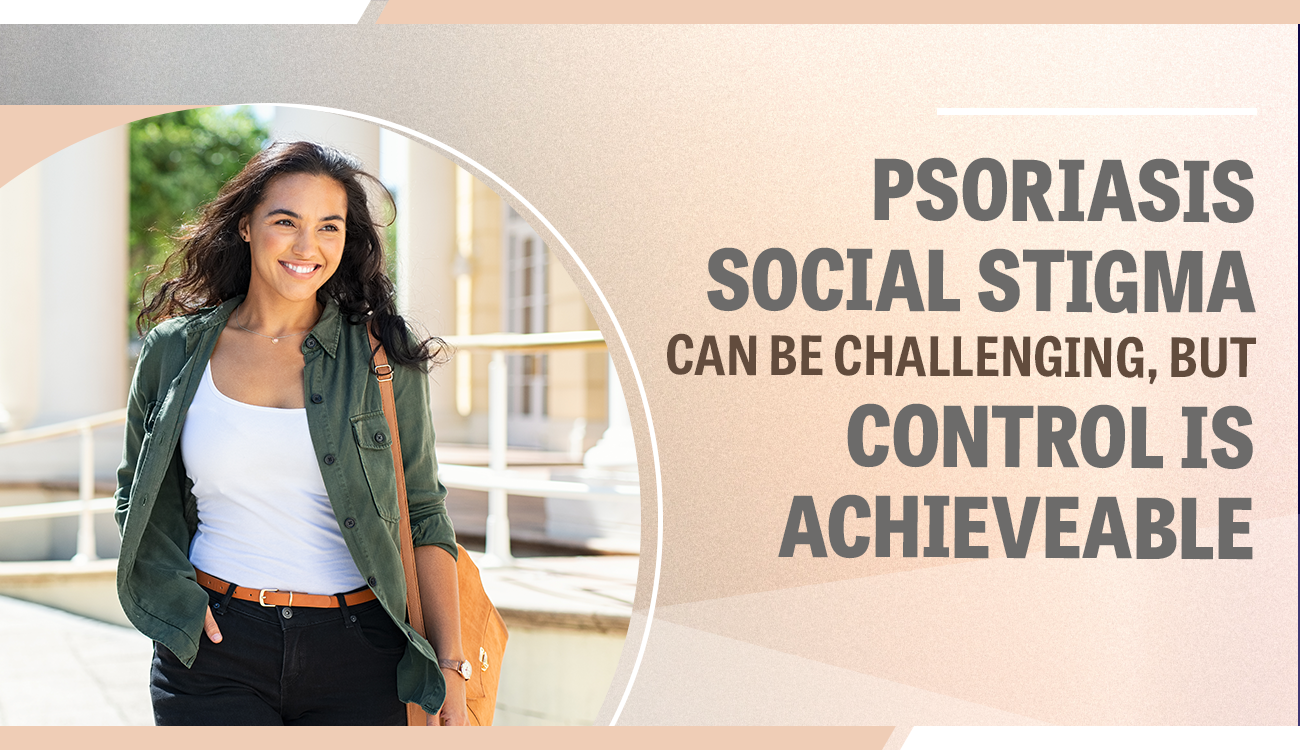 August 31, 2022
Empowering People Living with Psoriasis Year-Round
As psoriasis awareness month draws to a close, I want to take a second to help you (probably someone who works in healthcare but may not have psoriasis yourself) understand what it feels like to have psoriasis, and share some of the patient education we are providing year-round to help people with this condition on MyPsoriasisTeam, our social network that has attracted more than 1.6 million people living with psoriasis and psoriatic arthritis in the past year.
The Real-World Experience of Living with Psoriasis
Psoriasis is the autoimmune condition best known for the itchy, scaly skin rash that we often see. And 35% of psoriasis patients also get psoriatic arthritis in their joints – which can be quite painful.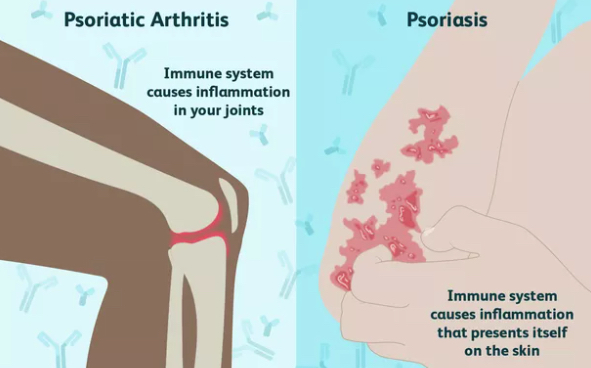 Our research team conducted a survey of MyPsoriasisTeam members to better understand how psoriasis impacts quality of life, and the findings were eye-opening: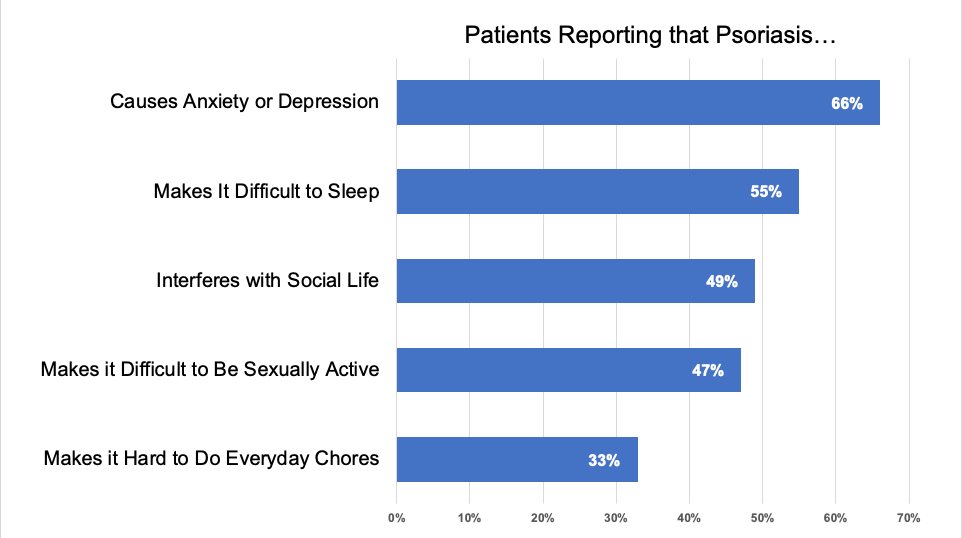 Two-thirds are experiencing depression or anxiety related to their psoriasis. Psoriasis causes difficulty sleeping, being sexually active, or having a social life for nearly half of all respondents! For some, it even makes everyday chores like cleaning up or cooking difficult.  
Only 24% of people living with psoriasis are "extremely or very happy" with the medications they take for psoriasis – a staggering figure given the wide range of effective therapies available in market. As a result, MyPsoriasisTeam members are tapping into each other's experiences and accessing our medically reviewed content to learn more about ways they can better manage their condition – with diet, exercise, lifestyle changes, stress management, and conversations with their doctors.
As one member of MyPsoriasisTeam recently said:
"I'm so glad to have found this support group. It's encouraging to see how many people understand my struggles and are always there to cheer me on."
Three Examples of Patient Education Working for the Psoriasis Community
1. Peer-to-Peer and Patient-to-Dermatologist Communications
Some great examples of the trusted, actionable content that keeps people coming back to MyPsoriasisTeam each day are featured in the Living With Psoriasis Resource Center we launched in partnership with AbbVie US Medical Affairs, which in the first two months alone has attracted tens of thousands of visits.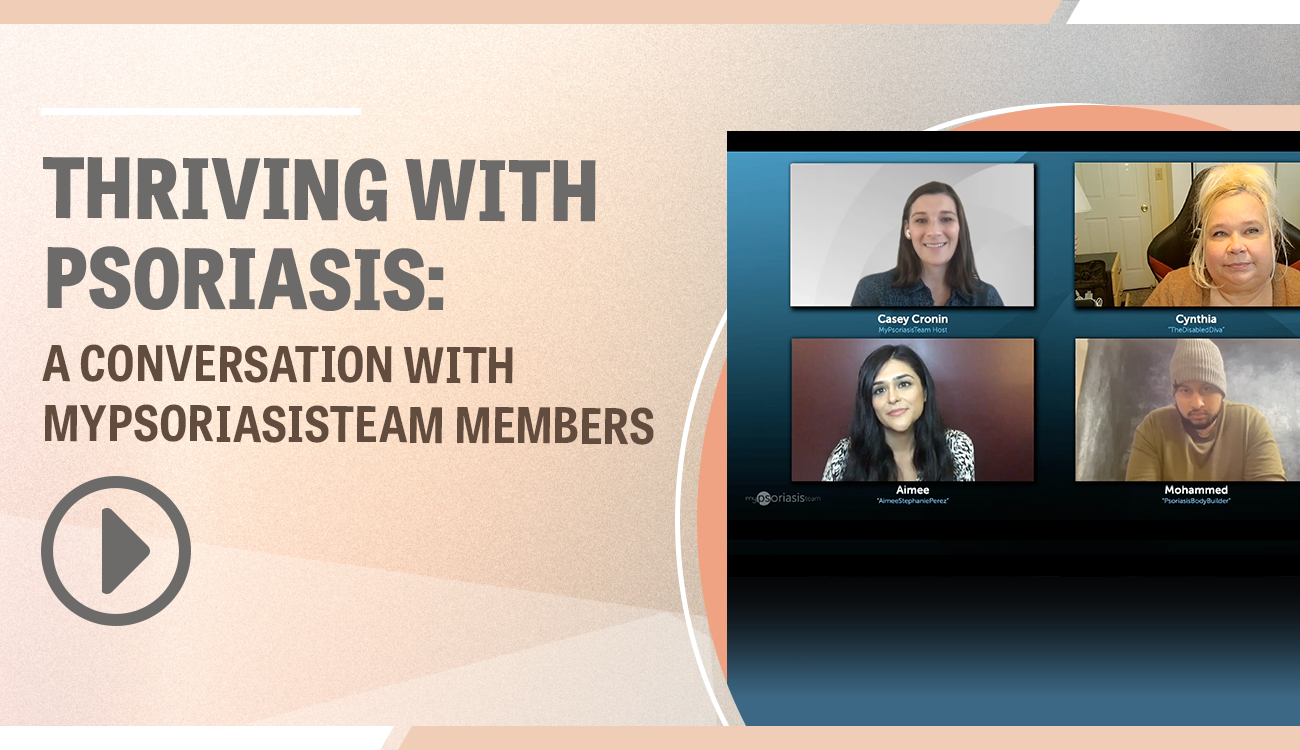 Designed to empower people living with psoriasis and psoriatic arthritis, the Resource Center addresses topics ranging from how to cultivate a strong patient-doctor relationship to how to foster self-esteem following diagnosis to how to make shared decisions about treatment options in collaboration with your doctor. Additionally, it features two videos with members of MyPsoriasisTeam sharing their personal perspectives and approaches – bringing to life the real-world experience of living with the condition.  
2. Member Video Portraits
You are not alone when diagnosed with a condition such as psoriasis – underscoring this has always been a priority for us. Our member video portraits are created to show the day-to-day experiences of people living with chronic conditions.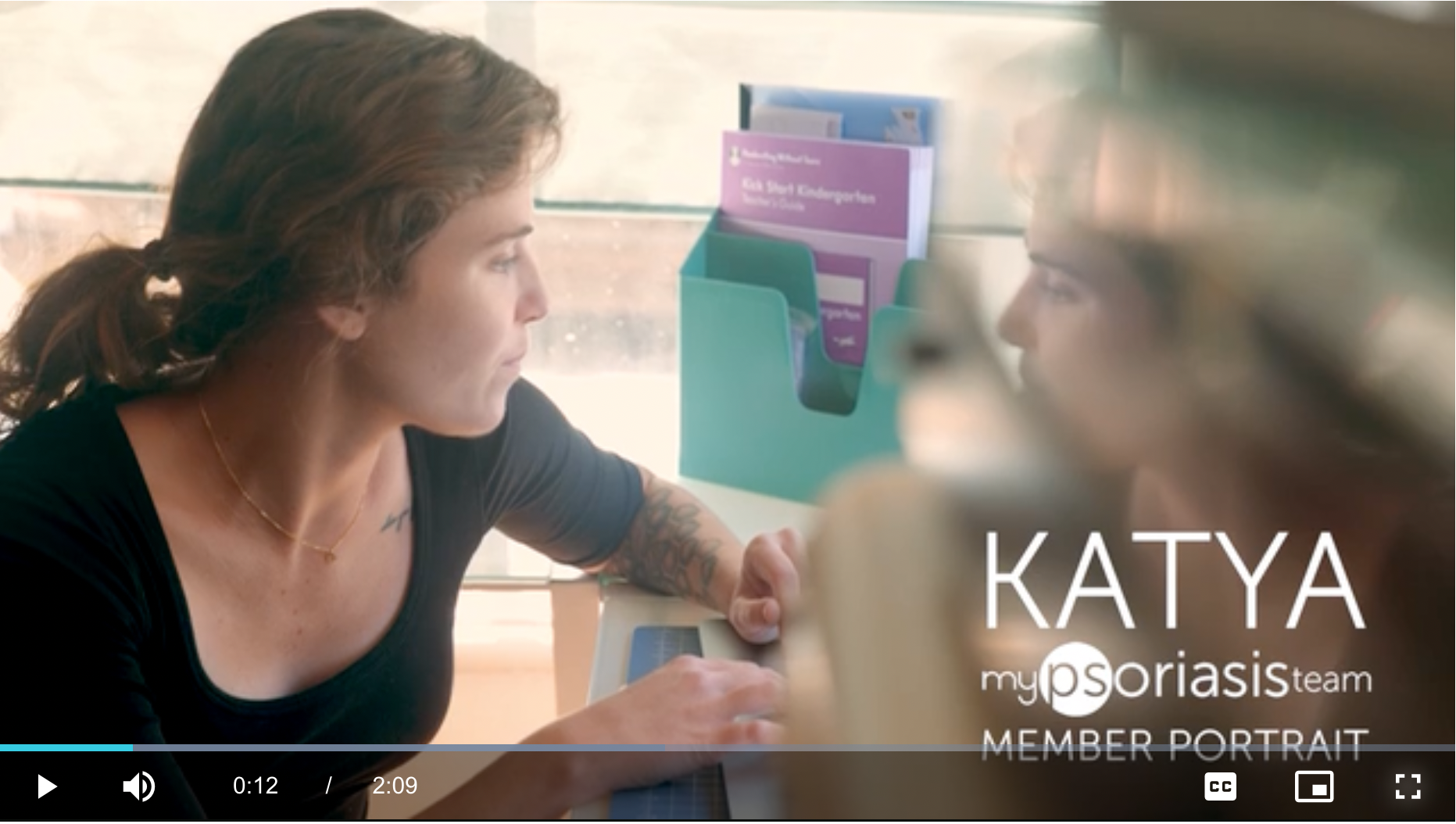 A great example of this is the award-winning MyPsoriasisTeam Member Portrait: Meet Katya, which is the first in a series of videos with Katya sharing her personal journey with psoriasis. Learning from other people living with the condition is a powerful way to educate and engage with other members of the community.
3. Interactive Patient Challenges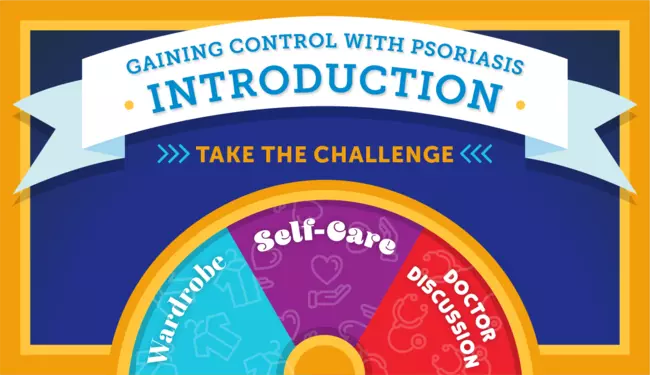 Across the MyPsoriasisTeam community, members are regularly encouraging each other to play an active role in managing their health. Our Gaining Control with Psoriasis Resource Center encourages people to tackle challenges in their journey – from talking with doctors about new treatment options to adopting new lifestyle habits that can help stave off psoriasis flares to trying new wardrobe options that can help them feel more comfortable and confident. The content is  engaging, with members spending more than four and a half minutes on each page (far above industry average). 
Each week, our editorial team and members of our Medical Expert Panel are publishing new articles and videos, adding to our growing list of resources designed to empower people living with psoriasis and psoriatic arthritis to effectively manage their condition and live the life they want – every day, every month, year-round.
As Dr. Raja Sivamani of the University of California at Davis said when I interviewed him for a Q&A event we hosted for members of MyPsoriasisTeam: 
"It used to be that when you had psoriasis, you just learned how to live with the condition. You don't have to do that anymore."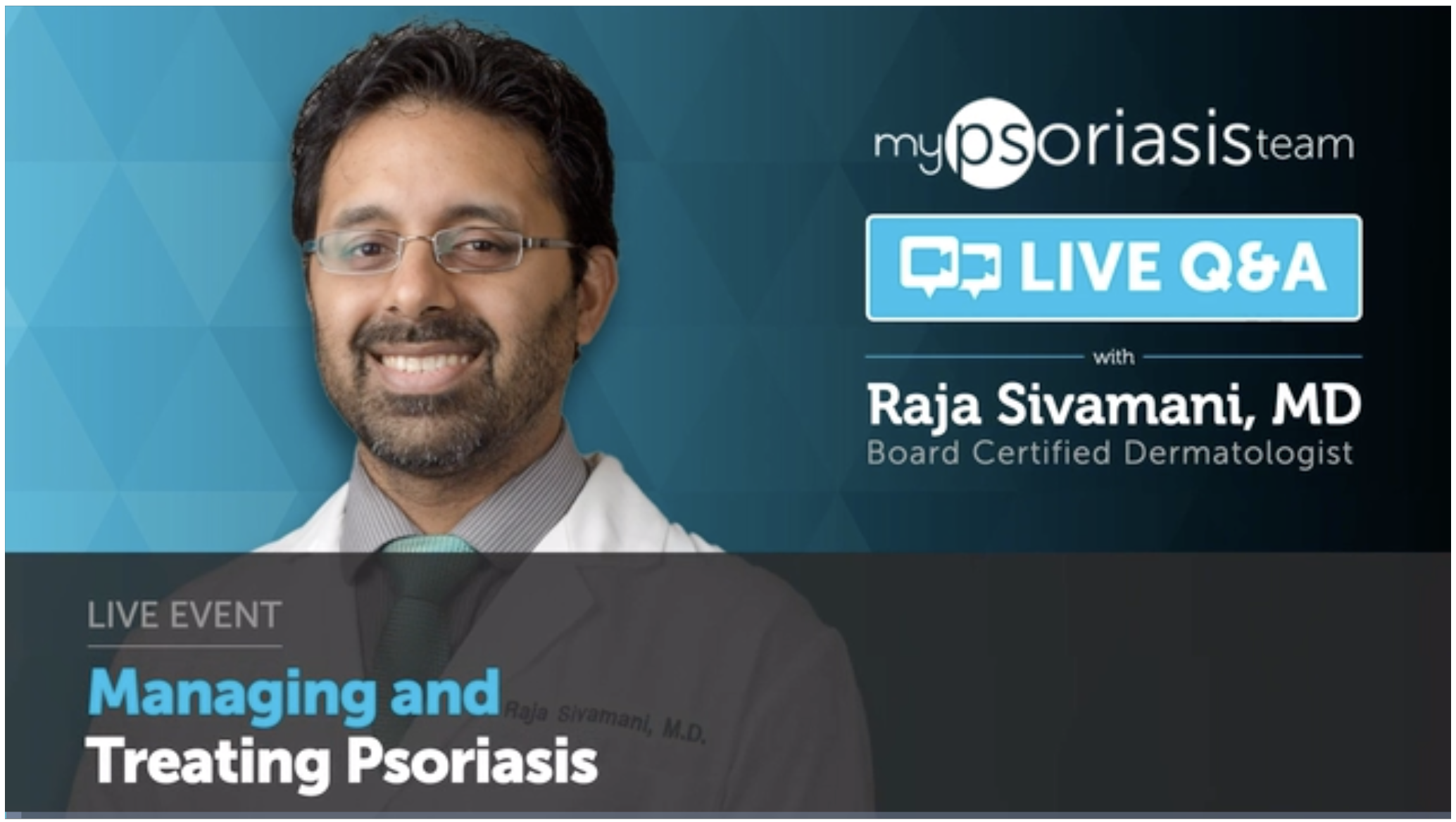 People living with psoriasis now have always-on access to the people, information and support they need to better manage their condition – thanks to MyPsoriasisTeam. We remain committed to delivering on this promise – and building on our work serving other communities facing dermatological conditions. We already have four other highly active, rapidly growing dermatology-focused social networks – MyEczemaTeam, myHSteam, MyHyperhidrosisTeam, and MyVitiligoTeam – with additions coming online soon. 
If you have a great idea for educational content that could help empower people facing psoriasis or PsA (or another condition community that you serve), please reach out.  We are always interested in helping fill the gaps in the healthcare system and promote health equity in autoimmune conditions – I'm at eric@myhealthteam.com.