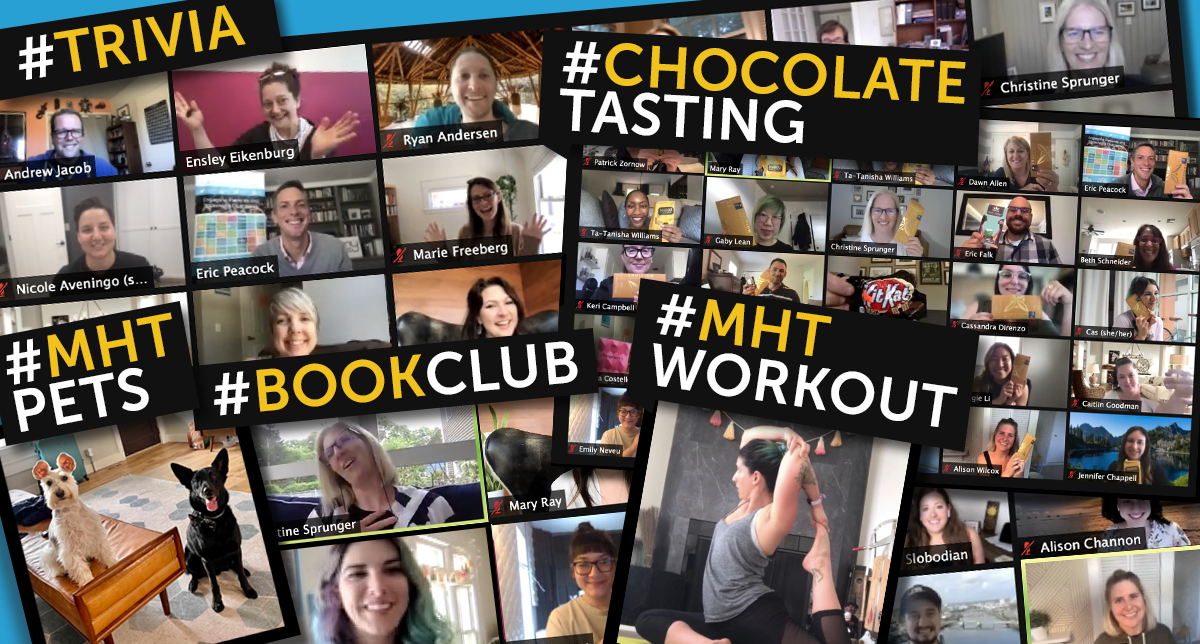 June 16, 2021
How the Pandemic Made Us More Intentionally Connected
Tips for team-building while hyper-distributed
When in-office happy chance moments to connect on a personal level vanished overnight in early March 2020 for me and my MyHealthTeams' colleagues, we were forced to answer this question for ourselves:
When you're in the business of connection and engagement, how do you maintain connection and engagement with your business?
Even before the pandemic, almost half our team was distributed across the United States. Slack and Zoom were already part of our daily routine. It was working.
But, since the pandemic started, we've nearly doubled in size – remotely onboarding more than 20 new employees. We've had to re-think recruiting in a virtual world. We've re-imagined our approach to developing talent. And we've re-committed to nurturing a culture of collaboration and connectedness.
We've learned a lot. Here, a few of the takeaways we're taking into our next phase of team-building.
Slack-ing is sometimes a good thing
Previously, our teams used Slack to accelerate productivity. We still do, of course. But we now also use it to fill in the gaps of those lost in-office connections around the "watercooler." People have expanded our channels from things like #product_ideas and #design_inspiration to include topics such as #puppykittentherapy, #bipoc_awesomeness, #online_meditation, #a-workout, and #whats-cooking. This provides a much-needed break in the day and has helped team members get to know each other outside of Zoom meetings. Stumble upon shared interests. Learn from different perspectives and experiences. Get a good chuckle in before moving on to the next task.
Zoom can make meetings more interactive
As our team grew over the past several years, our weekly all-hands meetings became less participatory – with many people feeling like they were starting each Monday with a firehose of information just coming at them. We broke that habit soon after everyone went WFH. Now, we utilize breakout rooms to be sure everyone gets a chance to share. And we group different people together each week, so employees know each other a little better the next time they're asked to collaborate on a project. In these small group settings, people can share a little about their work. But the focus is really on cultivating personal connection. For example, this week's question for everyone was "What are two truths and one lie about you?" When we reconvene as a group, the conversation is two-fold: 1) relevant company updates from our exec team, and 2) public kudos from any team member for any team member. It's 30 minutes well spent and sets a positive tone for the week ahead.
Team-building is a team sport
We don't have a "culture committee," but truly believe the best way to build camaraderie is enabling everyone across functions, at every level, to create events and opportunities for connection. MyHealthTeams' employees have really risen to the challenge these past several months. People have not only come up with great ideas, they've taken the initiative to put them into action. A few of my favorite examples:
Quarterly Book Club – which we did before but has only gotten better this year. We even had an author join one of our discussion sessions! That would have been tough to pull off in IRL but worked really well via Zoom. We've just finished "Homegoing" by Yaa Gyasi, and next on our optional reading list is "The Silent Patient" by Alex Michaelides.
Weekly Lunch or Happy Hour – which different people host and attend. But we always know there's the opportunity to get together, and we've had a great time trying out different games and activities virtually – everything from drawing to trivia to chocolate tasting. Next up: terrarium building.
Daily Guided Meditation – 10 minutes, employee-led. Some days, this has been the only thing that successfully calms my racing mind. And it builds really nicely on the complementary subscription to either the Headspace or Calm app that we're added to our benefits package for all team members.
Of course, sometimes the best thing we can do for our team is to give them a little extra break. It's been a tough year for us all, so we've also added PTO days that ensure everyone gets at least one 3-day weekend each month.
I am really looking forward to getting back to in-person hallway chats and meetings and offsites and celebrations. That said, I'm so impressed with what our team has been able to do and build together during this time. We are intentionally showing up for each other and finding creative ways to connect. It's refreshing – and something I hope we hold onto and build upon in the coming months. After all, we're in the business of connection and engagement.