June 20, 2023
Two Patient Research Studies Reveal Lower Access and Quality Care for Latino and Black Patients; MyHealthTeam and PHM Teaming Up To Improve Care for Underserved Populations

The impact of multiple sclerosis (MS) on the quality of life, mental health, and financial stability of patients is significant regardless of race. However, access to and quality of care for MS is significantly lower for Latino and Black MS patients than it is for white MS patients. These are the top-line findings from two patient studies conducted on MyMSTeam and shared earlier this month at the Consortium of Multiple Sclerosis Centers' annual meeting in Colorado. Below are highlights from the research, as well as an early preview of a partnership between Publicis Health Media (PHM) and MyHealthTeam. This partnership was developed to help pharmaceutical companies improve access to quality care and better reach and serve underserved populations. The studies found negative impacts of MS, regardless of race or ethnicity:
81 percent of study participants felt MS has impacted their quality of life.
74 percent said MS interferes with having an active social life.
72 percent felt it is hard to get around physically.
65 percent reported that MS also disrupts their education or work.
70 percent said they feel anxious or depressed.
50 percent felt judged by others.
Despite the widespread impact of MS for all patients, the studies' health equity research found that access to health care and the quality of care of not equally experienced.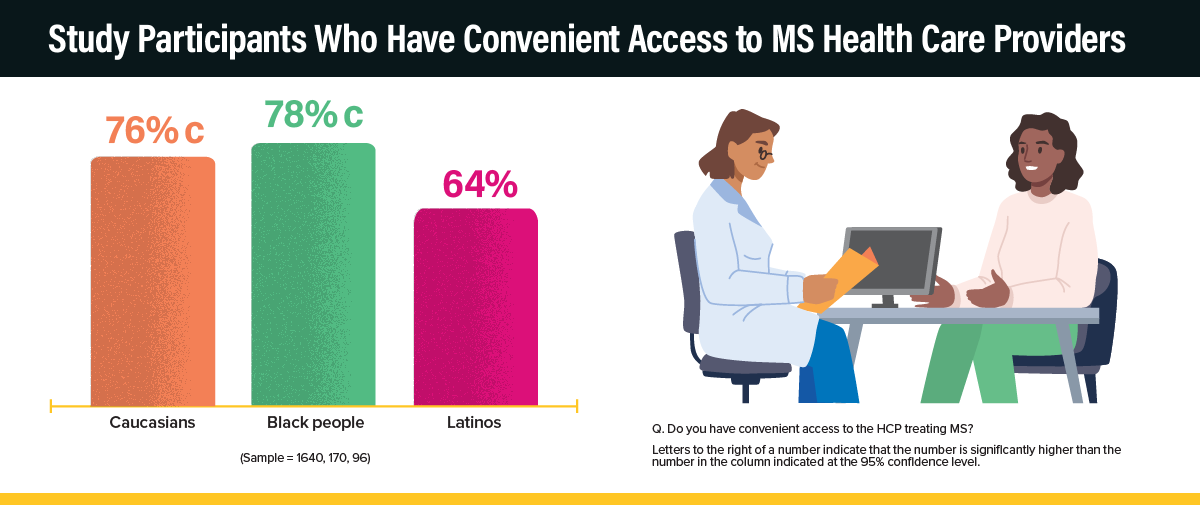 Key Differences in Access and Quality of Care by Race (From research conducted with PHM):
Only 64 percent of Latino patients reported having convenient access to their doctor versus 76 percent of Caucasians and 78 percent of Black patients.
Latino and Black patients use the emergency room or urgent care more for MS-related issues (35 percent and 25 percent respectively) versus 19 percent for Caucasians.
Latino patients are twice as likely as Caucasians (20 percent versus 9 percent) to be unable to take time off work for appointments.
Caucasians were more likely to live in areas with easy access to healthy foods (83 percent versus 73 percent for Black people and 67 percent for Latinos) as well as to outpatient care (72 percent, 65 percent, and 52 percent respectively).
Caucasians reported higher quality doctor interactions than Black or Latino patients. This included feeling respected by their doctor (81 percent for Caucasians versus 72 percent for Black patients and 65 percent for Latino patients) and feeling their doctor is nonjudgmental (69 percent versus 58 percent and 52 percent, respectively).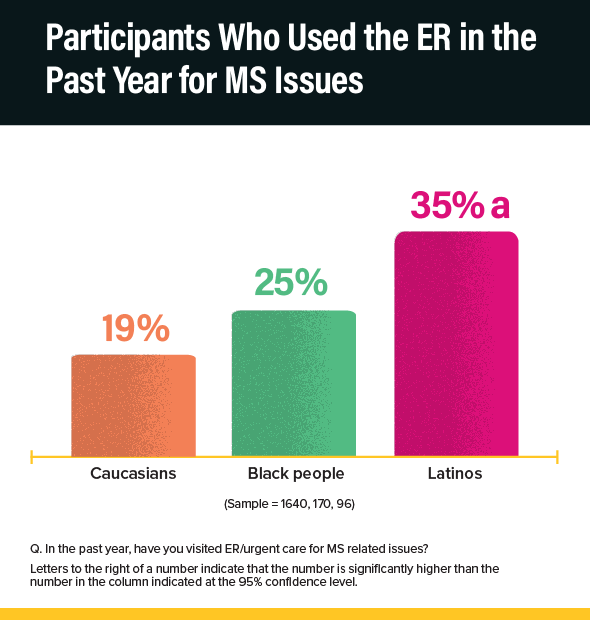 PHM and MyHealthTeam Team Up To Address Health Equity
Publicis Health Media partnered with MyHealthTeam to better understand the diverse experiences of people living with MS. 
"Our clients and our teams at PHM are committed to inclusive media strategies, so we partnered with MyHealthTeam to dig deeper into the care gaps to help drive better patient outcomes. Together, we fielded a study in early 2023 which yielded invaluable data from nearly 2,000 patients," explained Chris Hardy, associate director of research at PHM. "Hearing directly from patients provides us with a window into their lived experiences, which will help inform innovations and solutions for supporting MS patients regardless of who they are or where they live." 
PHM and MyHealthTeam will release a white paper this summer which dives deeper into the data and patient sentiments that can shape smarter, more relevant, and impactful solutions. 
Potential solutions may include:  
Spanish-language education centers
Q&As and talks from Black and Latino doctors
Profiles of influencers in the patient community
Addressing trust and communication between patients and health care providers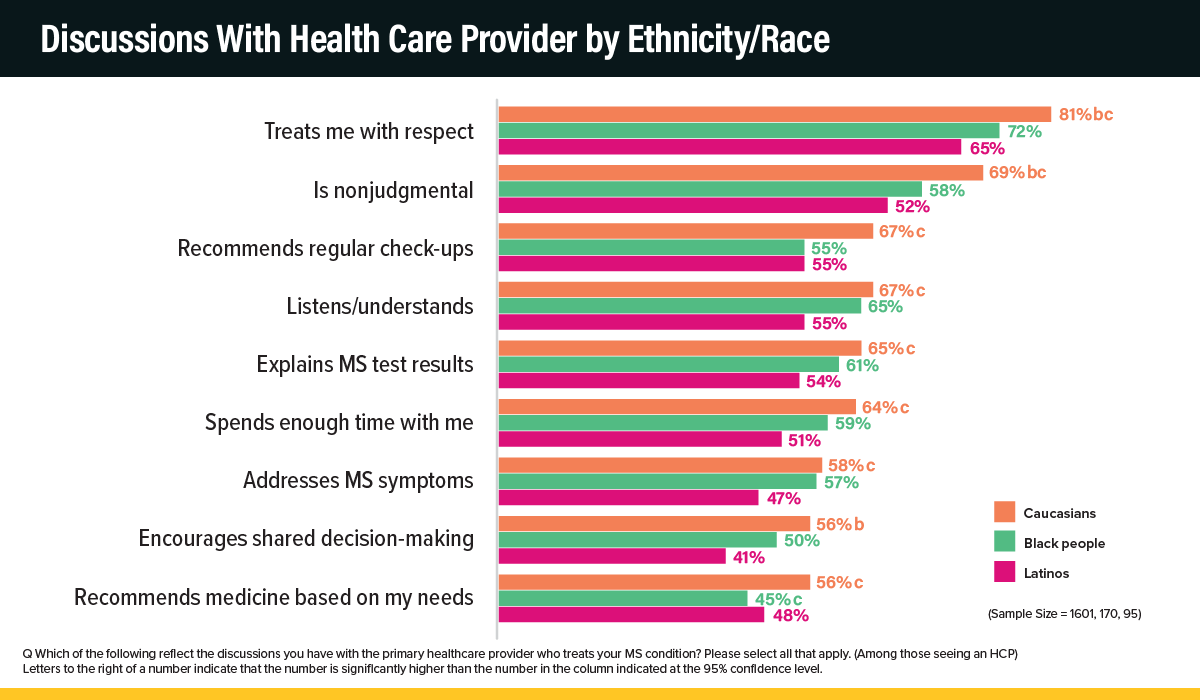 About the Surveys
For the Patient-Reported Impact of Multiple Sclerosis on Quality of Life study, in February 2022, an email invitation to an online survey was sent to U.S. members of MyMSTeam. In total, 629 members completed the 33-question survey regarding experiences with MS and its impact on everyday life. For the Patient-Reported Health Inequities Among Multiple Sclerosis Patients study, in January 2023, an email invitation to an online survey was sent to U.S. members of MyMSTeam. For that study, 1,935 people with MS completed a 34-question online survey.
To learn more about these studies or upcoming solutions, email MyHealthTeam today at partnerships@myhealthteam.com.