MyAsthmaTeam, New Social Network for People with Asthma, Provides Connection and Information During and Beyond COVID-19
MyHealthTeams launches 38th social network in response to increased demand among those facing respiratory conditions during pandemic
SAN FRANCISCO — December 9, 2020 — MyHealthTeams, creator of the largest and fastest-growing social networks for people facing chronic health conditions, today introduced MyAsthmaTeam. MyAsthmaTeam is a social network for people diagnosed with asthma and their primary caregivers (e.g., parent or spouse). Registration is free, and the app makes it easy to find the right people, information and support they need to best manage their asthma. Members can connect with and support each other and learn from articles and interviews with top doctors.
MyAsthmaTeam offers trusted information, including medically reviewed articles and doctor interviews on symptoms, triggers, treatments and more. These relationships and resources are especially important as people with asthma manage their respiratory health during the COVID-19 pandemic – even while many in-person support groups are paused.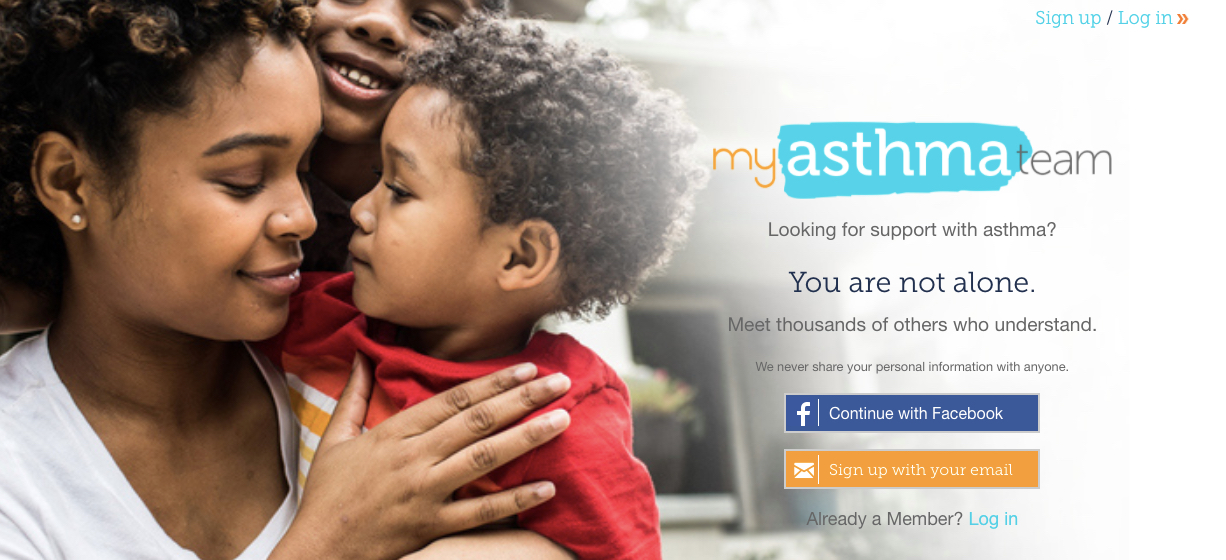 "People have so many questions about things like whether they should continue taking their medications, when and how they should exercise, how they should use telehealth visits with their doctors, and what to do if they contract the coronavirus," said Eric Peacock, cofounder and CEO of MyHealthTeams. "We've had great success bringing together patients and medical expertise in other respiratory conditions during Covid-19 and feel a sense of urgency to serve those facing asthma – particularly as we enter the winter months and Covid spikes."
This is MyHealthTeams' third social network dealing in respiratory conditions. More than 140,000 patients have joined MyCOPDTeam and MyPHTeam in COPD and pulmonary hypertension. A recent impact study found that 71% of MyCOPDTeam members experienced improvement in shortness of breath after regularly using breathing techniques they learned from a video series created for the community. As part of the MyAsthmaTeam experience, members share their firsthand experiences with the disease and offer each other practical tips for managing life and health while living with asthma.
Asthma is a chronic condition that affects the airways in the lungs, which can become inflamed and narrowed – causing wheezing, coughing or tightness in the chest. Asthma affects people of all ages and often starts during childhood. According to the Centers for Disease Control and Prevention (CDC), 1 in 12 people have asthma – a rate that has steadily increased over the past two decades.
MyAsthmaTeam is the 38th condition-specific patient social network from MyHealthTeams. Across these social networks, MyHealthTeams has more than 2.5 million registered members and tens of millions of monthly visitors.
About MyHealthTeams
MyHealthTeams believes that if you are diagnosed with a chronic condition, it should be easy to find and connect with others like you. MyHealthTeams creates social networks for people living with a chronic health condition. Millions of people have joined one of the company's 38 highly engaged communities focusing on the following conditions: Crohn's and ulcerative colitis, multiple sclerosis, lupus, fibromyalgia, pulmonary hypertension, spondylitis, eczema, myeloma, hyperhidrosis, vitiligo, rheumatoid arthritis, psoriasis, leukemia, lymphoma, asthma, irritable bowel syndrome, Parkinson's, Alzheimer's, epilepsy, hemophilia, hidradenitis suppurativa, depression, heart disease, type 2 diabetes, myeloproliferative neoplasms, osteoporosis, spinal muscular atrophy, COPD, chronic pain, migraines, narcolepsy, food allergies, obesity, HIV, PCOS, endometriosis, breast cancer and autism. MyHealthTeams' social networks are available in 13 countries.
Media Contact
Michelle Cox
press@myhealthteams.com
415-823-7574