MyHealthTeam and Color of Crohn's and Chronic Illness Partner to Educate and Empower BIPOC Individuals Living with Inflammatory Bowel Disease, Digestive Disorders, and Associated Chronic Illnesses
New online resources help patients work effectively with healthcare providers to accelerate diagnosis and treatment
SAN FRANCISCO — December 9, 2022 — MyHealthTeam, creator of the largest and fastest-growing social networks for people living with chronic health conditions, and Color of Crohn's and Chronic Illnesses (COCCI), a nonprofit organization on a mission to improve quality of life for BIPOC individuals affected by IBD, digestive disorders, and associated chronic illnesses, today announced their partnership. Together, the two organizations are working toward equity in patient care. As part of this work, the Color of Crohn's and Chronic Illnesses (COCCI) Health Unity & Equity (HUE) Center launched today in MyCrohnsandColitisTeam, featuring educational content designed to help people better understand their symptoms and more effectively talk with their doctors about them in an effort to accelerate diagnosis and treatment.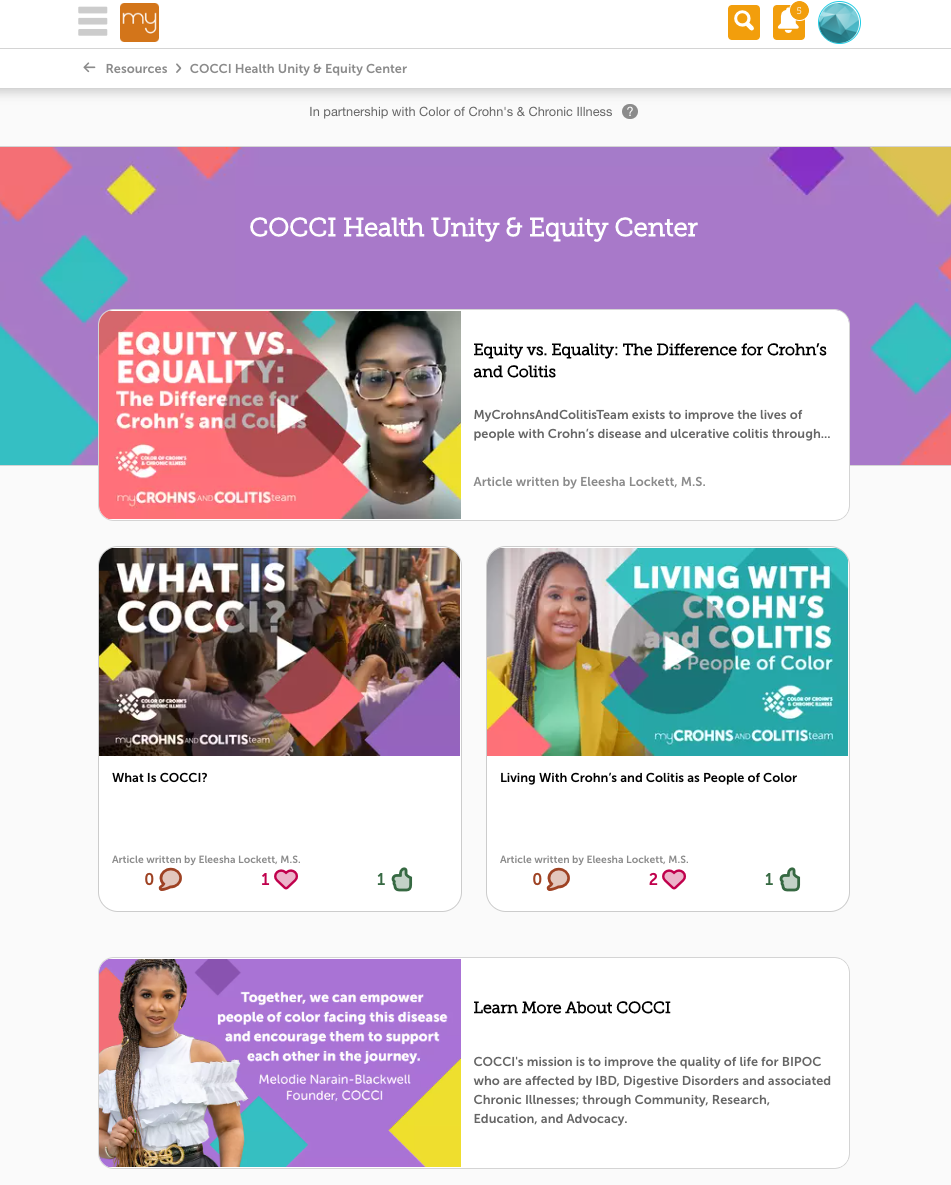 A 2020 study found that Black patients presenting with textbook IBD symptoms, like iron deficiency and chronic diarrhea, were 91% less likely than white patients to get an appropriate diagnostic workup for IBD – which can lead to mis-diagnosis, disease progression, and worsening symptoms. This reflects the systemic racism that plagues so many aspects of the healthcare system and points to the need for additional educational resources, such as the new COCCI HUE Center, and the value of supportive patient communities, such as MyCrohnsandColitisTeam.

"Connecting with others just like you who are facing similar challenges and sharing firsthand experiences is so valuable for people working to understand and manage their IBD," Melodie Narain-Blackwell, president and founder of COCCI. "Together with MyHealthTeam, we can empower people of color facing this disease to effectively engage in shared decision-making with their doctors and encourage them to support each other in the journey." 

Educational content featured within the COCCI HUE Center – all of which is free to access – includes:


Equity vs. Equality: The Difference for Crohn's and Colitis

: a video

featuring gastroenterologist Dr. Adjoa Anyane-Yeboa, who highlights the differences between equity and equality and the importance of health equity for historically marginalized people living with Crohn's disease and ulcerative colitis.

What is COCCI?

: an interview with COCCI founder Melodie Narain-Blackwell, who describes COCCI as a "patient advocacy organization focused on the BIPOC community who are managing and battling chronic illnesses that are digestive-related."

Living with Crohn's and Colitis as People of Color

: a video where Melodie Narain-Blackwell shares her own IBD journey. Melodie's diagnosis, which came nearly 25 years after she first experienced symptoms, illuminates existing healthcare disparities for people of color living with IBD.
"Actively working to uproot inequities in healthcare is core to our mission of improving the experience of living with a chronic health condition," said Mary Ray, co-founder and COO of MyHealthTeam. "Together with COCCI, we're empowering people with trusted information and authentic connections, which will ultimately help drive better health outcomes."

About IBD

IBD stands for inflammatory bowel disease – which is a term for two conditions, Crohn's disease and ulcerative colitis, that are characterized by chronic inflammation of the gastrointestinal (GI) tract. The cause is not yet understood, but the impacts on quality of life are significant – persistent diarrhea, abdominal pain, rectal bleeding/bloody stools, weight loss, and fatigue. In a recent survey conducted among members of MyCrohnsandColitisTeam, more than 70% of people reported that IBD limits their social activities and about half said that IBD has prevented them from reaching their full potential in life.

About COCCI

COCCI is a patient advocacy organization focused on improving the quality of life for BIPOC [Black, Indigenous, and people of color] individuals who are affected by IBD, Digestive Disorders and associated Chronic Illnesses. Through research, education, and advocacy, COCCI works to empower its community members and dismantle systemic health inequities affecting BIPOC living with IBD and other chronic conditions.

About MyHealthTeam

MyHealthTeam believes that if you are diagnosed with a chronic condition, it should be easy to find and connect with others like you. MyHealthTeam creates social networks that provide support and information for people living with a chronic health condition. Millions of people have joined one of the company's 45 highly engaged communities focusing on the following conditions: Alzheimer's, amyloidosis, asthma, autism, autoimmune hemolytic anemia, breast cancer, COPD, chronic pain, COVID-19, Crohn's and ulcerative colitis, depression, diabetes (type 2), eczema, endometriosis, epilepsy, fibromyalgia, food allergies, heart disease, hemophilia, hidradenitis suppurativa, HIV, hyperhidrosis, irritable bowel syndrome, leukemia, lung cancer, lupus, lymphoma, migraines, multiple sclerosis, myeloma, myeloproliferative neoplasms, narcolepsy, obesity, osteoporosis, ovarian cancer, Parkinson's, PCOS, prurigo nodularis, psoriasis, pulmonary hypertension, rheumatoid arthritis, seborrheic dermatitis, spinal muscular atrophy, spondylitis, and vitiligo. MyHealthTeam social networks and knowledge centers are available in 13 countries.

Media Contact

Sharnea Cooper
info@cocci.org

Michelle Cox
press@myhealthteam.com
+1 415-823-7574