MyHealthTeam Launched MyEndometrialCancerCenter to Help Women Detect and Treat Endometrial Cancer Early
Medically-reviewed online content and resources for all people facing this condition
 SAN FRANCISCO/September 19, 2023 — MyHealthTeam, creator of the largest and fastest-growing social networks for people facing disease or chronic health conditions, announced today that it launched MyEndometrialCancerCenter, a knowledge center for people and families facing endometrial cancer. The center provides medically reviewed articles and resources about living with this diagnosis, understanding symptoms and the latest treatments, guidance for talking with doctors, and an ability to ask questions of the community.
 Visit MyEndometrialCancerCenter at https://endometrialcancer.myhealthteam.com.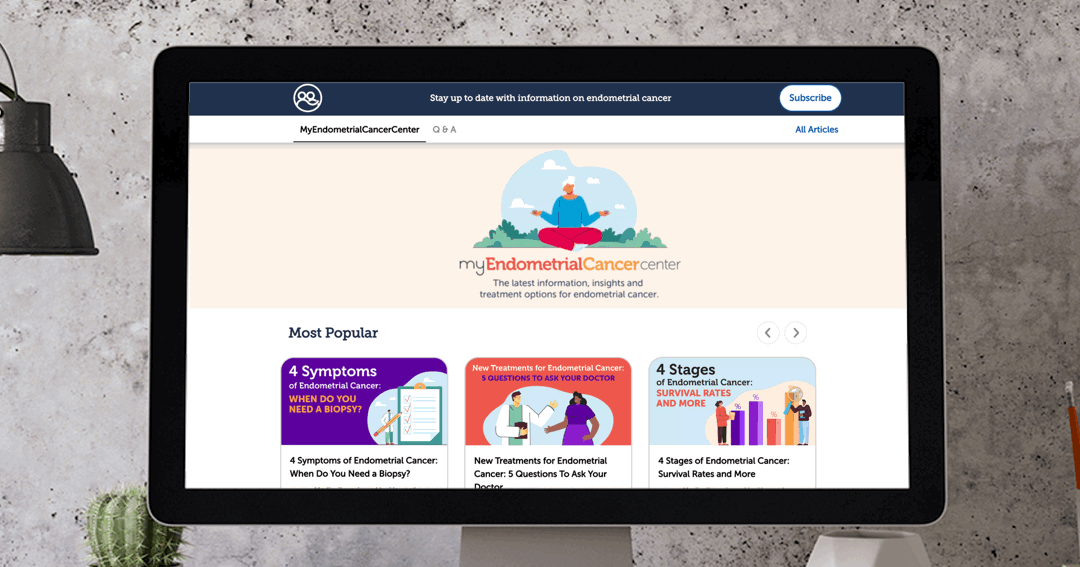 Each year, 66,000 women are diagnosed with endometrial cancer in the United States. This is the most common cancer affecting the female reproductive system, and 3% of women will be diagnosed with this in their lifetime, typically at age 50 or above. Created in partnership with GSK, this online knowledge center is for all women facing endometrial cancer to find a safe place to research and ask questions of a community of others going through the same journey. MyEndometrialCancerCenter provides medically-approved, in-depth articles and resources to help patients see around the corners and know what to expect next. 
 "Today, endometrial cancer has a good prognosis when detected and treated early," said Eric Peacock, Co-founder and CEO of MyHealthTeam. "We want to make sure that all women and families facing this disease can easily find medically-reviewed information and resources to help them live a long and wonderful life. We also want them to know that they are not alone on this journey."
 MyEndometrialCancerCenter is MyHealthTeam's eighth social network in oncology, and it includes:
Medical information

about the diagnosis – including symptoms, causes and current treatments

Insights

into the efficacy of various treatment options and promising new diagnostic and treatment therapies

Community –

Q&A among people and caretakers in all phases of endometrial cancer

Guidance for navigating daily life

with the disease
About MyHealthTeam
MyHealthTeam believes that if you are diagnosed with a rare disease or chronic condition, it should be easy to find the people, support and medically-approved information you need to best manage your condition. Millions of people regularly visit one of the 50 condition-based communities by MyHealthTeam from Alzheimer's to Vitiligo covering all therapeutic areas and many rare conditions in between. Visit MyHealthTeam for a complete list of conditions served. MyHealthTeam social networks and knowledge centers are actively being used in 13 countries.
CONTACT:
press@myhealthteam.com