MyHealthTeam Launches MyPrurigoTeam, a Social Network for People Living with Prurigo Nodularis
Builds on experience serving communities facing chronic skin conditions and rare diseases
SAN FRANCISCO — October 6, 2022 — MyHealthTeam, creator of the largest and fastest-growing social networks for people facing chronic health conditions, today launched MyPrurigoTeam – a safe place for people living with prurigo nodularis (PN) to find the right people, support, and medically-reviewed information they need to better manage their condition. 
Prurigo nodularis  is a chronic inflammatory skin disease.  It causes extreme itching and a symmetrically distributed rash that appears most commonly on the arms, legs, the upper back, and/or the abdomen. The itch associated with PN is so severe that it often interferes with sleep and psychological well-being. The disease is most often diagnosed in people ages 40-69, and it is more common among women and Black or African-American persons. Considered a rare disease, dermatologists diagnose approximately 87,000 new cases in the U.S. each year. 
"Prurigo nodularis has been overlooked for a long time, but things are changing. We now understand more about the pathogenesis and the epidemiology of PN, and we are learning much more about targeted ways we can intervene to improve quality of life for patients," said Shawn Kwatra, MD, director of the Johns Hopkins Itch Center and practicing prurigo nodularis clinician and researcher. "It's an honor to work with MyPrurigoTeam to help people understand and apply the rapid developments happening in our understanding and treatment of this disease."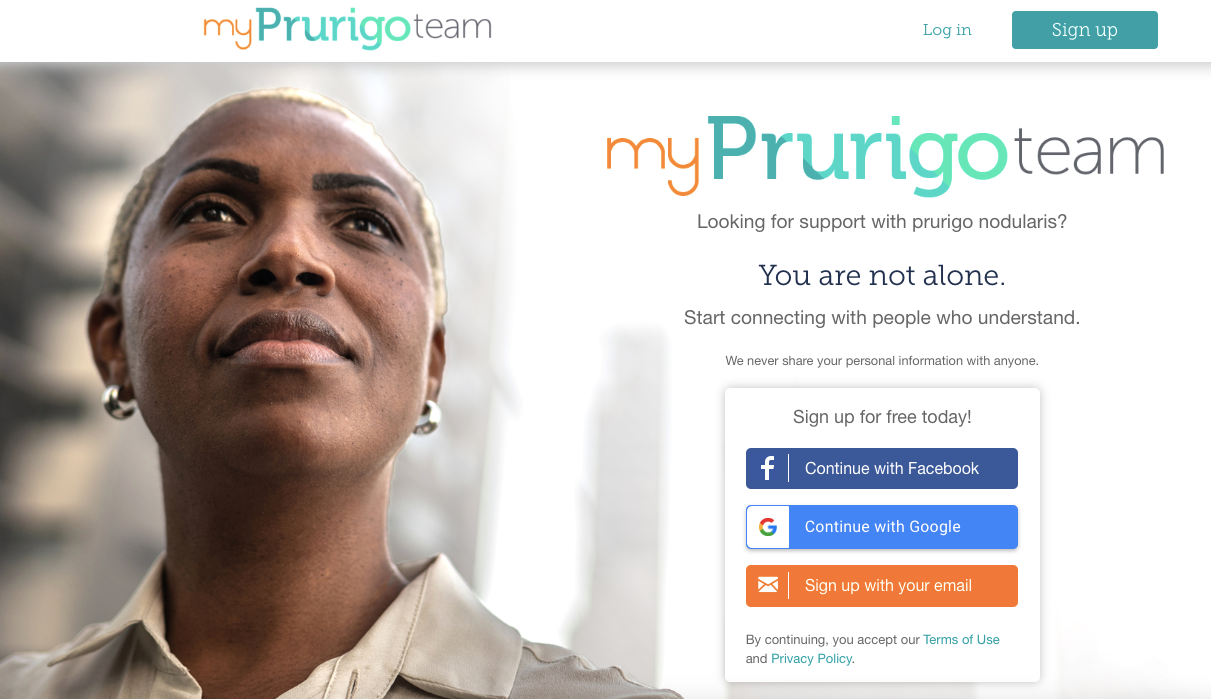 Patient education content within MyPrurigoTeam – all free to access – includes:
A guide to tracking symptoms, which can help accelerate the path to PN diagnosis;
Images showing what PN looks like on different body parts and skin tones;
Interviews with medical experts who specialize in treating the disease, including Dr. Kwatra;
Insights into the latest PN research and treatment options, including information on clinical trial opportunities for treatments in development; and
Information about the mental health impacts of PN;
"People diagnosed with prurigo nodularis often don't know anyone else living with this condition, and they have so many questions about how to manage symptoms and regain quality of life," said Eric Peacock, cofounder and CEO of MyHealthTeam. "MyPrurigoTeam provides medically reviewed resources that help them better understand and manage the condition, and connections to others who can share their firsthand experiences, practical tips, and emotional support."
MyPrurigoTeam is the 44th condition-specific social network from MyHealthTeam and builds on the company's strength in dermatology, with a portfolio that includes MyEczemaTeam, myHSteam, MyHyperhidrosisTeam, MyPsoriasisTeam, and MyVitiligoTeam. It also underscores the company's leadership in serving rare disease communities, with social networks including myAIHAteam, MyAmyloidosisTeam, MyHemophiliaTeam, MyNarcolepsyTeam, and mySMAteam.
About MyHealthTeam
MyHealthTeam believes that if you are diagnosed with a chronic condition, it should be easy to find and connect with others like you. MyHealthTeam creates social networks that provide support and information for people living with a chronic health condition. Millions of people have joined one of the company's 44 highly engaged communities focusing on the following conditions: Alzheimer's, amyloidosis, asthma, autism, autoimmune hemolytic anemia, breast cancer, COPD, chronic pain, COVID-19, Crohn's and ulcerative colitis, depression, diabetes (type 2), eczema, endometriosis, epilepsy, fibromyalgia, food allergies, heart disease, hemophilia, hidradenitis suppurativa, HIV, hyperhidrosis, irritable bowel syndrome, leukemia, lung cancer, lupus, lymphoma, migraines, multiple sclerosis, myeloma, myeloproliferative neoplasms, narcolepsy, obesity, osteoporosis, ovarian cancer, Parkinson's, PCOS, prurigo nodularis, psoriasis, pulmonary hypertension, rheumatoid arthritis, spinal muscular atrophy, spondylitis, and vitiligo.  MyHealthTeam social networks and knowledge centers are available in 13 countries.
Media Contact
Michelle Cox
press@myhealthteam.com
+1 415-823-7574