Research Among People Living With Lupus Finds Widespread, Under-Addressed Anxiety and Depression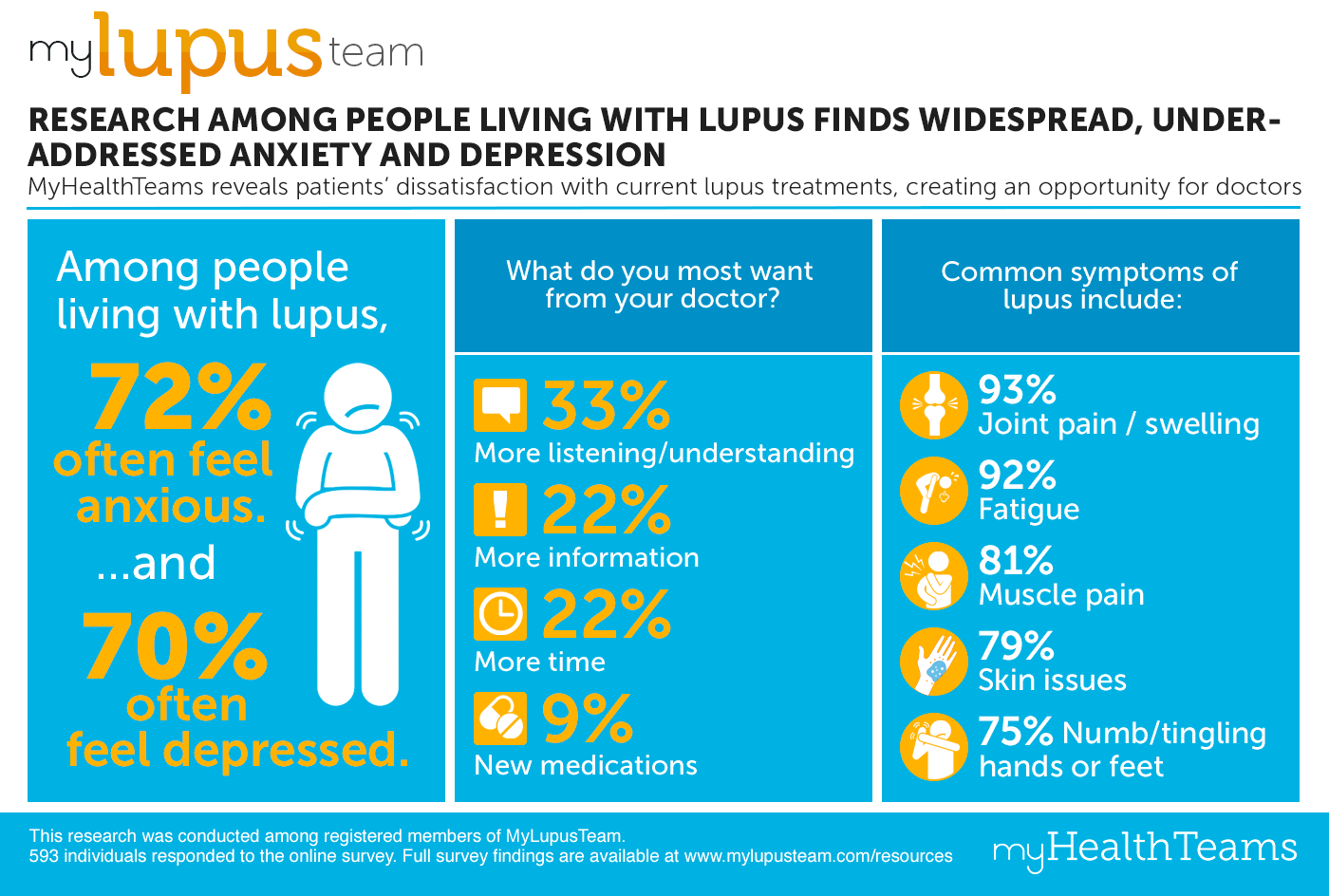 New study from MyHealthTeams reveals patients' dissatisfaction with current lupus treatments, creating an opportunity for doctors
SAN FRANCISCO — April 13, 2020 — MyHealthTeams, creator of the largest and fastest-growing social networks for people facing chronic health conditions, today unveiled new research conducted among the more than 170,000 registered members of MyLupusTeam, the social network for people facing lupus. Key findings included insights into the prevalence of anxiety and depression, patients' dissatisfaction with current lupus treatments, and common quality-of-life impacts of the disease.
"This research, conducted just before the COVID-19 outbreak, shines a light on the fact that the normal pain and fatigue associated with Lupus can lead to depression and anxiety," said Eric Peacock, cofounder and CEO of MyHealthTeams. "Now more than ever, it is important that healthcare providers listen for and treat these broader symptoms in order to build lasting and effective relationships with their patients facing lupus. Patients with lupus need to feel heard – something made more difficult with folks having to shelter in place."
Anxiety and Depression: Commonly experienced, inadequately addressed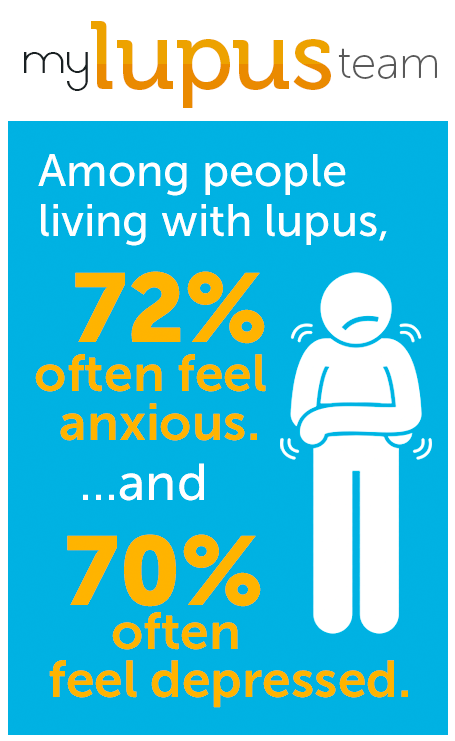 69% of those surveyed report being less than fully satisfied with their current lupus medication. Yet when asked what they wish their doctor would do differently, only 9% said "new treatments." Overwhelmingly, what people living with lupus want from their doctors is: "listening and understanding" (33%), "more information" (22%) and "more time" (22%).
Impact on Quality of Life: Wide-ranging symptoms and flare-up triggers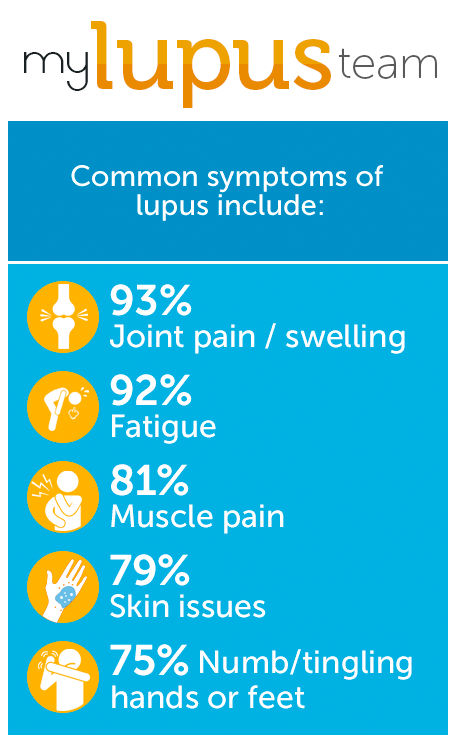 Lupus, a long-term autoimmune disease in which the body's immune system becomes hyperactive and attacks normal, healthy tissue, creates daily challenges that impact people at home and work.
Common symptoms of lupus include:
Joint pain / swelling (93%)
Fatigue (92%)
Muscle pain (81%)
Skin issues (79%)
Numb / tingling hands or feet (75%)
Top triggers that exacerbate lupus symptoms include:
Stress (87%)
Sunlight / UV exposure (71%)
Cold weather (66%)
Hot weather (53%)
The result, as reported by those surveyed, is that lupus dramatically decreases overall quality of life, impacting life at home and work.
85% say lupus makes it hard for them to exercise.
83% find it difficult to do everyday chores.
77% say lupus interferes with their social life.
71% say it interrupts career and education.
62% find it difficult to be sexually active.
This research was conducted among the more than 170,000 registered members of MyLupusTeam. 593 individuals responded to the online survey. Full survey findings are available at www.mylupusteam.com/resources.
About MyHealthTeams
MyHealthTeams believes that if you are diagnosed with a chronic condition, it should be easy to find and connect with others like you. MyHealthTeams creates social networks for people living with a chronic health condition. Millions of people have joined one of the company's 35 highly engaged communities focusing on the following conditions: Crohn's and colitis, multiple sclerosis, lupus, fibromyalgia, pulmonary hypertension, spondylitis, eczema, myeloma, hyperhidrosis, vitiligo, rheumatoid arthritis, psoriasis, leukemia, lymphoma, irritable bowel syndrome, Parkinson's, Alzheimer's, epilepsy, hemophilia, hidradenitis suppurative, depression, heart disease, type 2 diabetes, osteoporosis, spinal muscular atrophy, COPD, chronic pain, migraines, food allergies, obesity, HIV, PCOS, endometriosis, breast cancer and autism. MyHealthTeams' social networks are available in 13 countries.
Media Contact
Michelle Cox
press@myhealthteams.com
415-823-7574