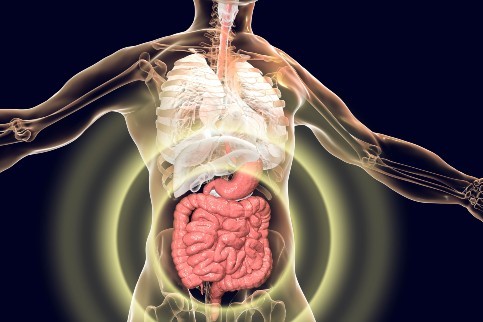 November 4, 2020
The Patient POV: Unmet Needs Among People Living With IBD
The recent American College of Gastroenterology Annual Meeting featured two research posters showing the crushing impact of Crohn's disease and ulcerative colitis on patients' quality of life (qol), and a relatively high satisfaction with biologics from a real-world experience perspective. Both studies are based on research among members of MyCrohnsAndColitisTeam, our social network for people diagnosed with Crohn's disease and ulcerative colitis (collectively known as IBD), conducted in partnership with leading academic medical researchers and the medical affairs team at AbbVie.
Quality of Life: Social and Emotional Impacts of IBD
The social and emotional impacts of IBD are staggering. More than 80% of those surveyed report they are anxious. More than 70% limit their social activities. About a third avoid pursuing an intimate relationship. Diarrhea and abdominal pain are the most common physical symptoms of IBD, and many people report regularly dealing with both fatigue and insomnia as a result. What's more, 80% say that stress triggers worsening symptoms, so there's a vicious cycle that happens as people struggle to deal with the fallout of this condition.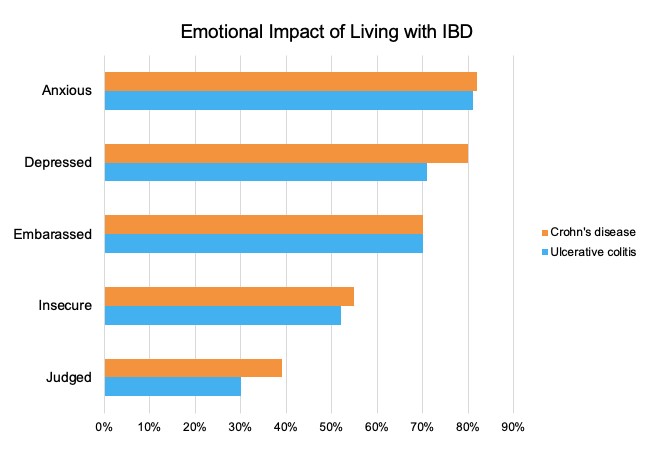 For additional information on IBD's impact on quality of life, check out the ACG poster and presentation by Laurie Keefer, PhD, professor of medicine and psychiatry at the Icahn School of Medicine at Mount Sinai, who received the honor of Outstanding Poster Presenter at ACG 2020: Unmet Needs of Patients with IBD:  Patient Perspectives on the Impact of Disease on Quality of Life.
IBD Treatment Experience:  Satisfaction with HCPs and Treatments
Understanding the real-world experience of IBD patient care is an important starting point. It's encouraging to see relatively high levels of patient satisfaction with their doctors. Specifically, 73% of those surveyed who are seeing a gastroenterologist are extremely or very satisfied with that relationship – as are 55% of those seeing a primary care physician or other provider. Regardless of who they're seeing, IBD patients consistently cite two key drivers for HCP satisfaction: "My doctor listens to and understands me," and "My doctor spends enough time with me."
In reporting their satisfaction with treatment, survey respondents who are on biologics rated their treatment as very to extremely effective at much higher rates than those on non-biologic treatments such as corticosteroids or 5-aminosalicylates or immunomodulators. It's important to note that those with ulcerative colitis were far more likely to be taking a biologic than those with Crohn's disease – 74% vs 47% respectively.
When we asked people what they want most from IBD treatment, the top responses all center on: 1) Alleviation of gastrointestinal symptoms, 2) Improvement in energy/fatigue, and 3) Relief from joint pain. The majority of people become aware of new treatment options from their HCP, underscoring the importance of regular and productive patient-physician communications.
For additional information on IBD treatment experiences, check out the ACG poster and presentation by Aline Charabaty, MD of John Hopkins Sibley Memorial Hospital: Unmet Needs of Patients with IBD:  Patient Perspectives on Treatment Experience
As MyHealthTeams continues to hone the social network experience for members across our 37 communities, our focus is on addressing unmet patient needs. These research findings inform that effort. We arm people with information that helps them have more effective conversations with their doctors about symptoms, treatment options, and managing their overall health. And we make it easy for them to connect with others who are facing similar challenges – so they can provide each other with emotional support, practical tips, and recommended resources. This combination of trusted information and authentic connection is powerful, especially as we all increasingly rely on digital tools.
Have a question about our findings on unmet needs among IBD patients? Comment below or find me at eric@myhealthteams.com.