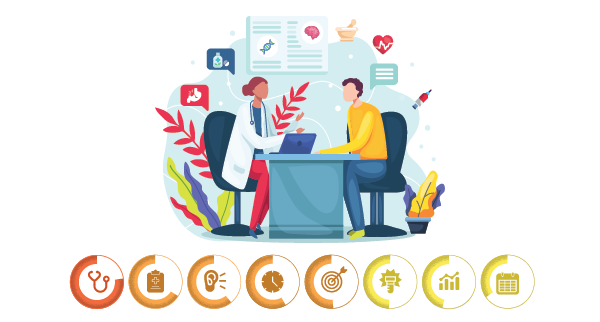 January 12, 2021
Understanding the Rheumatologist-Patient Relationship in Treating Rheumatoid Arthritis
Really listening to someone and reflecting that you are takes a fair amount of skill. This is why the latest research we presented at the American College of Rheumatology's annual meeting is so interesting. Our study was among the registered members of myRAteam, our social network of more than 134,000 people diagnosed with rheumatoid arthritis.
The key finding from the research: when people with RA feel they are truly heard by their doctor, they are more satisfied with their doctor. This simple fact presents a powerful opportunity to strengthen doctor-patient relationships and improve health outcomes.
The basic connection between feeling heard and being satisfied makes sense. But what's surprising is just how big the delta is. For example, 87% of people who report overall satisfaction believe their doctor listens to and understands them – versus 24% of people who report being generally dissatisfied with their doctor. Likewise, 81% of satisfied patients feel their doctor spends enough time with them – versus 26% among dissatisfied patients.
This points to the importance of the patient-doctor relationship – and thinking beyond the pill or injection. Managing the primary physical symptoms of a chronic condition such as RA is critical, of course. But it is also essential that doctors address the wide-ranging impacts of the disease – treat the whole person.
One area where this is especially clear: mental health. Dealing with depression and anxiety are among the top challenges of managing RA. Yet only 51% of survey respondents reported their doctor addresses these symptoms. That's a significant gap in care. Closing this gap would greatly improve patients' quality of life.
To this end, we're investing heavily in creating and curating content that can help educate patients on key themes we see in this research and in the daily conversations happening on myRAteam. We want to empower members with information that can help them better understand symptoms, so they can have even more informed conversations with their doctors – and, ultimately, overcome obstacles to managing their RA. One such example: our recent article on Depression and RA.
The combination of trusted information and authentic connection with others facing similar challenges is what makes our patient social networks so special. Getting this right requires ongoing listening – to ensure we understand the real-world experience of living with a chronic health condition such as RA and are addressing patients' priorities.
As we enter 2021, we're redoubling our focus on both research and patient education. If you're interested in taking a look at this ACR poster or discussing upcoming research priorities, please message me here or find me at mary@myhealthteams.com.